14 things to know if you might be afraid of laser hair removal (part 2/2)
Is it painful?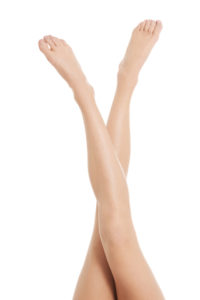 At Tropicalaser we use Candela GentleMax lasers. The lasers blow a cooling gas onto the skin immediately after the laser pulse. This makes the treatment more comfortable.
The laser pulse is frequently described as being similar to the snapping of an elastic band on the skin. While this is an imperfect analogy, it is possible the best we have! Our well-trained technicians will work with you to make your treatment as comfortable as possible.
Is laser hair removal safe?
When performed by competent, trained medical estheticians, using high quality and well-maintained devices, laser hair removal is safe. All laser treatments have potential side effects. Most of our clients go through a full course of treatment with no negative side effects. A small percentage will have side effects – for example, some hyperpigmentation – which are temporary. Your Tropicalaser guide will discuss all possible side effects with you at the time of your free consultation.
What parts of my body can be treated?
We can, and have, removed hair from every part of the body except: Inside the nose and ears;
Inside the ocular rim (which is the bone surrounding our eyes); Eyebrows (except for the unibrow which can be removed) because the laser beam is too wide to remove tiny strips of hair;
Inside the labia.
Is it true that I can't go into the sun during the course of my treatment?
When we are sun-exposed, the melanin in our skin (which causes our skin to darken) becomes active. The laser detects the active melanin and can then target the skin surrounding the hair being lasered. This can result in unwanted side effects like blisters and burns. Our rule is no unprotected sun exposure for two weeks following treatment, and no laser for 3 weeks after unprotected sun exposure.
Are there any other things I should avoid?
There are a number of pre and post treatment precautions you should take. We will review these with you at your consultation and give you a take-home card listing these in full.
Is laser hair removal expensive?
Studies have shown that laser hair removal is cheaper than either waxing or shaving when viewed over a number of years. At Tropicalaser we have many treatment and payment plans which are surprisingly affordable. For example, we have full body laser hair removal memberships starting at $130/month, with a 2-year commitment.
How old do I need to be treated?
We have clients as young as 15, but will not treat anyone under 18 without parental consent. At your consultation, we caution younger clients that if they are still going through puberty, laser hair removal should be delayed because hormonal changes at this stage may cause a great deal of new growth.
I'm ready to learn more. WHAT should i do?
Contact us to schedule your free consultation with one of our friendly staff.