INTRODUCING THE DIVINE PRO
The Ultimate Non-Invasive Facial Rejuvenation Treatment Platform
Tropicalaser is excited to have purchased the Divine Pro – the ultimate non-invasive facial rejuvenation treatment platform. The DIVINE PYRAMID FACELIFTTM is powered by four superior technologies which target the skin and muscles. Sophisticated delivery systems and advanced safety features ensure maximum results with minimal downtime and discomfort.
The Divine Pro provides Tropicalaser with two new treatments:
Dynamic Muscle Activation or DMA, and
TriFractionalTM RF Skin Resurfacing;
Plus one new combination treatment:
VoluDermTM, which combines RF (radio frequency) and micro-needling;
Plus an additional stand-alone RF treatment:
Tropicalaser can now mix and match one or more of these 4 technologies to safely and comfortably treat skin laxity, wrinkles, and acne scarring, and contour the neck and jawline. The Divine Pro can be used on many areas including the face, neck, and décolleté, and even hands and breasts.
What are the major benefits of the Divine Pro to you as a Tropicalaser client?
Personalization: Your Tropicalaser Esthetician can tailor your treatment plan to your particular concerns, needs and desires;
Natural: At Tropicalaser we feel it's extremely important to use non-surgical treatments that trigger your own body to repair and rejuvenate itself;
Long-lasting and immediate results: After only a single treatment, clients will see an improvement – an improvement that increases with each subsequent treatment;
Minimal pain and downtime: Most clients find all 4 modalities comfortable. We routinely use a topical anaesthetic for the two minimally invasive treatments (VoluDerm and Tri-Fractional RF), even though many clients don't need numbing. Downtime is typically only 24 – 48 hours with VoluDermTM and TriFractionalTM RF, while there is no downtime for DMA and TriPollar® treatments;
Affordable: Compared with treatments with comparable results, the Divine Pro treatments are surprisingly affordable.
Results are astonishing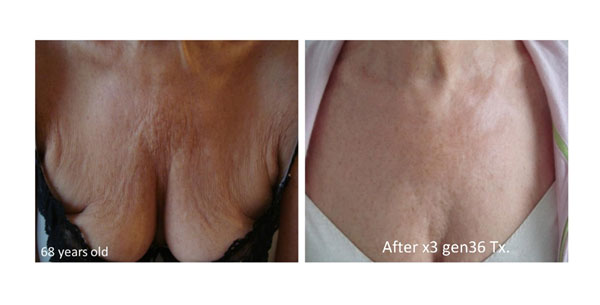 For those of you who want to delve a little deeper into the technology, please read on.
Dynamic Muscle Activation – DMA
DMA is a non-invasive muscle lifting and skin tightening treatment which firms the skin and lifts jawlines. It allows us to create a beautifully-defined V-shaped silhouette, noticeable from the first treatment.
DMA targets the superficial muscles of the face, known as SMAS (Superficial Muscular Aponeurotic System). It triggers rapid muscle activations along the cheeks and jawline, causing thicker muscle fibres and improved muscle tone. The result? A more youthful, V-shaped jawline.
DMA is rarely used as a standalone treatment but is usually combined with the TriPollar® treatment.
TriPollar® RF Technology
TriPollar® is an RF technology which gently and comfortably heats the skin to a therapeutic temperature of 41oC. At this temperature, the skin starts to create new fibroblasts (which are the building blocks of collagen) and elastin, resulting in skin tightening and wrinkle reduction. A built-in temperature sensor automatically adjusts the RF energy to ensure that overheating doesn't occur, resulting in a pleasant, safe and effective treatment.
VoluDermTM – RF Micro-needling
RF micro-needling is a technology combining RF generated heat with micro-needles, to resurface the skin, induce collagen production, tighten the skin and reduce the look of wrinkles.
During VoluDermTM treatment, extra thin needles are connected to an RF energy source to penetrate the skin (to 0.6 or 1 mm depending on the tip used) allowing heat to be delivered to the target tissue. This allows delivery of heat to a deeper layer than with RF alone. This treatment creates thermal micro-wounds which trigger the body's natural healing processed to increase production of collagen, elastin and hyaluronic acid. The result? Thicker, firmer, younger-looking skin.
TriFractionalTM RF Skin Resurfacing
In a TriFractionalTM treatment, micro-RF electrodes are placed in contact with the skin, and a short RF pulse releases heat to evaporate pin-point areas of inferior quality skin. These superficial thermal centres trigger the body's natural healing processes to repair the epidermis and restore the skin barrier. The skin heals slowly and efficiently, without scarring, replacing inferior skin with healthy tissue with improved structure and tone.
The treatment targets the epidermis and papillary layers to effectively rejuvenate the skin. It can be used on the face, neck, décolleté and any other body part that needs smoothing (e.g. hands and breasts).